---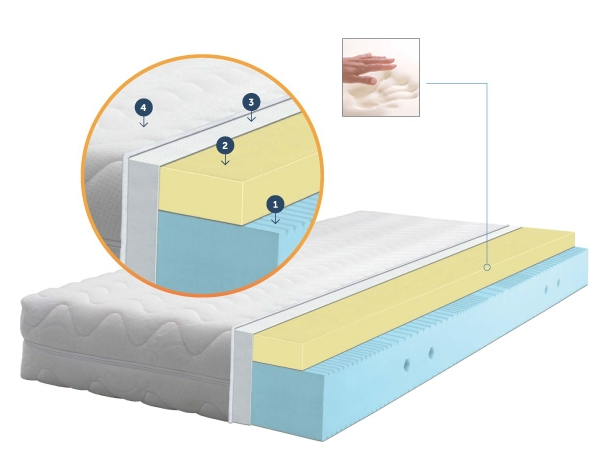 | | |
| --- | --- |
| 1 | Profiled Sky cell foam |
| 2 | Memory foam |
| 3 | Mattress ticking Tricover |
| 4 | Removable cover with zipper: Stretch cover 100% poliester 170g/m Koflin 400g/m2 Spandbond 15g/m2 |






È ideale per persone la cui vita quotidiana è piena di sforzi e di stress. La schiuma di memoria sarà un'adattamento ideale al tuo corpo e vi darà una sensazione di calore e di soddisfazione. Il cuore completo di questo modello è protetto con Tricover ticking. I migliori risultati sono se la persona è fino a 90 kg di peso corporeo
| | | | | | | | | | |
| --- | --- | --- | --- | --- | --- | --- | --- | --- | --- |
| Modello | Altezza | Versione 1 | Versione 2 | Versione 3 | Versione 4 | Versione 5 | Versione 6 | Versione 7 | Versione 8 |
| Maxi | 20 | 80x190/200 | 90x190/200 | 100x190/200 | 120x190/200 | 140x190/200 | 150x190/200 | 160x190/200 | 180x190/200 |

It is ideal for people whose everyday life is filled increased efforts and stressful situations. Memory foam will be an ideal adjust to your body and give you a feeling of warmth and satisfaction. Complete core of this model is protected with Tricover ticking. Best results are if person is up to 90 kg body weight

MEMORY FOAM A material that was devised in the laboratories of NASA in order to provide maximum comfort and protection duringspace flights. The special features of memory foam allow it to adapt ideally to the body when resting. When you get up, memory foam returns to its former shape. Commercial use of this remarkable material has started thirty years ago, when it became the symbol of a very healthy and relaxing
sleep.

SKY CELL Using unique technological solutions from BAYER we have produced a range of open-cell polyurethane foams – SKY CELL. It allows fresh air to continually circulate through the foam. Fumes do not collect in the foam, and microorganisms, dust mites and mould are unable to develop
CLOTH - Il tessuto antibatterico di qualità Tencel impedisce lo sviluppo di acari e microrganismi. Tencel è un nome registrato da Lyocell, tessile biodegradabile, rinnovabile e rispettoso dell'ambiente, realizzato in filamenti di fibre naturali di cellulosa. Le fibre di Tencel, come il cotone, resistono alla crepa, caratterizzate da un'ottima morbidezza e setosa. È molto resistente, robusto e durevole, quindi può essere lavato a mano ea macchina. È caratterizzato da grande trasparenza e capacità di assorbire l'umidità. Ha una capacità di assorbimento di umidità superiore al 50% rispetto al cotone. Le fibre di cellulosa di Tencel impediscono la comparsa di acari e batteri e sono consigliati a persone con pelle sensibile.

TENCEL
CLOTH - Tencel quality antibacterial fabric prevents the development of mites and microorganisms. Tencel is registered name by Lyocell, which is biodegradable, renewable and environmentally friendly textiles, made of tiny filaments of natural cellulose fibers. Tencel fibers lot like cotton, resistant to creasing, characterized by exceptional softness and silky. It is very resistant, sturdy and durable, so it can be washed by hand and machine. It is characterized by great transparency and ability to absorb moisture. It has a 50% greater capacity of absorption of moisture than cotton. Tencel cellulose fibers prevents the occurrence of mites and bacteria, and are recommended to persons with sensitive skin.
Lattice è il liquido bianco lattiginoso costituito da gomma sciatta dispersa in acqua. Questo materiale è soffiato nell'aria calda per ottenere forma spugnosa o gomma di lattice. Latex è materiale antiallergico, antibatterico e ecologico. Dal momento che ci respirano l'umidità libera, ci tiene caldo in inverno e fresco in estate. Lattice è materiale durevole. Ha un'alta densità ed è molto elastica e ariosa, quindi è piacevole da utilizzare nei materassi. I materassi di lattice forniscono un buon supporto e comfort. Latex ha un'eccellente elasticità e flessibilità per adattare la pressione del corpo. Creando in zone supporta appunto la colonna lombare.
LATEx
Latex is the milky white fluid consisting of loopy rubber dispersed in water. This material is blown into the hot air to get spongy form or latex rubber. Latex is antiallergic, antibacterial, ecological material. Since breaths to us free humidity, keeps us warm in winter and cool in summer. Latex is durable material. It has a high density and it's very elastic and airy, therefore, it is pleasant to use in mattresses. Mattresses of latex provide good support and comfort. Latex has an excellent elasticity and flexibility to adapt the pressure of the body. By creating in zones specially supports the lumbar spine.
---