---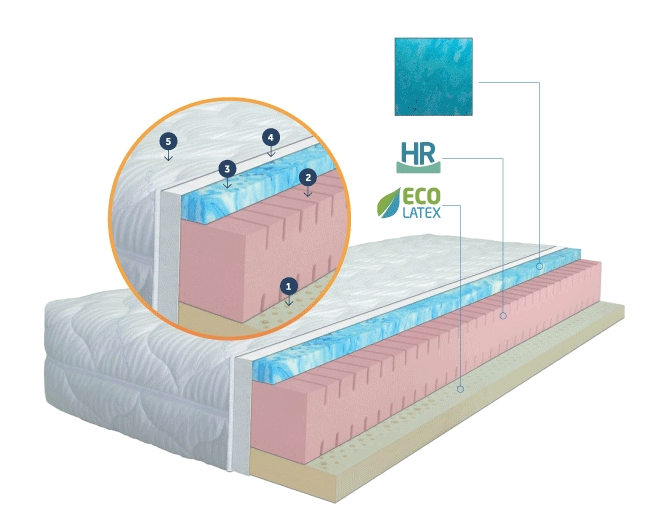 | | |
| --- | --- |
| 1 | Latex 100% - 7 zone |
| 2 | Profiled HR foam - medium hardness |
| 3 | Memo cool foam |
| 4 | Mattress ticking Tricover |
| 5 | Removable cover with zipper: Memo cool canvas , Koflin 480g/m2 Retex 17g/ |







Materasso per il massimo comfort e piacere nel sonno. Con una combinazione di schiuma a cellule Sky profilate, Memory foam e Ecolatex otteniamo il prodotto che č altamente resistente a batteri, muffe e acari ... La durata e il comfort sono massimizzati
| | | | | | | | | | |
| --- | --- | --- | --- | --- | --- | --- | --- | --- | --- |
| Modello | Altezza | Versione 1 | Versione 2 | Versione 3 | Versione 4 | Versione 5 | Versione 6 | Versione 7 | Versione 8 |
| Memory Latex | 23 | 80x190/200 | 90x190/200 | 100x190/200 | 120x190/200 | 140x190/200 | 150x190/200 | 160x190/200 | 180x190/200 |

Mattress for maximum comfort and pleasure in sleep. With a combination of profiled Sky cell foam, Memory foam and Ecolatex we get the product that is highly resistant to bacteria, mold and mites… Durability and comfort are maximized.

MEMO COOL FOAM The material has an excellent property that collects less heat than the ordinary mattress with memory foam. Memo cool has a unique structure that is essential for healthy sleep, combines the unique anatomical support and comfort such as "Seventh Heaven". Memo cool suits for all ages, the body gives orthopedic support and helps preserve health. The top layer of the mattress where the cool memo has a cooling effect, reducing the burden on muscles and helps relaxation, does not work any pressure on the body.

HR (High Resilience) FOAM A material offering an exceptional balance between firmness and adaptability – the ideal support for the body for the perfect rest. It gives slowly as you lie down and gently lifts you when you get up. A unique experience in sleeping comfort

ECO LATEX An exceptional material with improved characteristics as compared to natural latex. It has been proven to accumulate as much as three times less dust after long-term use than other materials used in mattresses. These exclusive properties are improved perforations that accelerates the flow of fresh air.